U.K. clinical trial validates PET-CT surveillance for patients with advanced head/neck cancer
By Staff News Brief
PET-CT-guided surveillance to assess the response of patients with squamous cell carcinoma of the head and neck and advanced nodal disease following chemoradiotherapy is used at some cancer treatment centers to reduce unnecessary neck dissection. Its efficacy with respect to patient outcomes has now been validated by the results of a randomized prospective clinical trial conducted at 37 cancer treatment centers throughout the United Kingdom.
Approximately 80% of the patients assigned to the PET-CT surveillance arm of the study were able to avoid neck dissection, according to study findings published online March 23 in the New England Journal of Medicine. Non-invasive PET-CT surveillance was more cost effective, and improved patient safety, comfort, and convenience.
Head and neck squamous cell carcinomas (HNSCC) are the most common type of head and neck cancers. Because a large percentage of patients do not have a complete response to chemotherapy and radiotherapy treatment, subsequent neck dissection is frequently performed. This procedure is an up-to-three hour long surgery associated with a high level of complications and morbidity, and hospitalization of up to a week in duration.
The ability of PET/CT to identify structural and metabolic abnormalities provides image-guidance for surgeons and identifies patients who have had a complete response to treatment. But because outcomes had not been formally validated in 2007, the University of Birmingham Institute of Head and Neck Studies and the University of Warwick Clinical Trials Unit initiated one.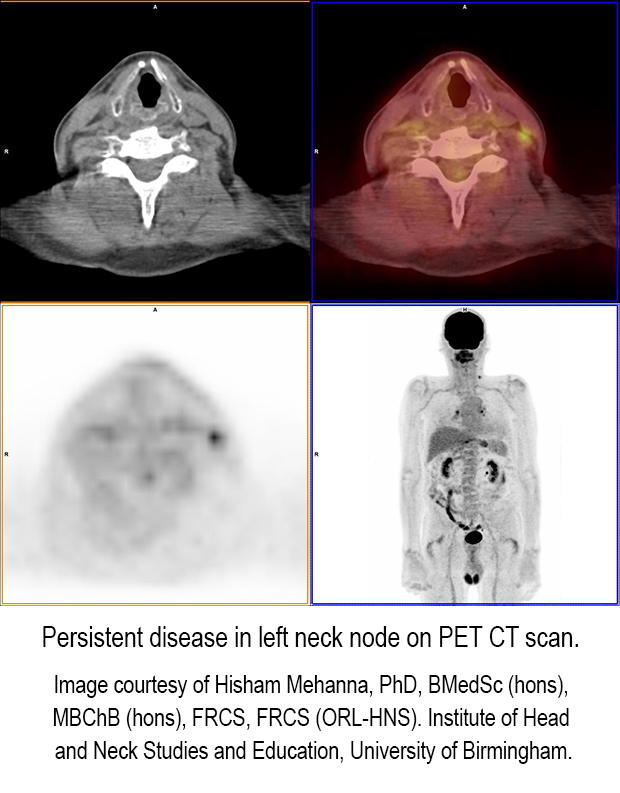 The clinical trial enrolled 564 patients from October 2007 to September 2012. Seventy nine percent of the patients had N2a or N2b nodal disease. They were assigned to either a planned surgery arm or a PET-CT surveillance exam performed 12 weeks after completion of chemoradiotherapy. Both groups were matched and equivalent with respect to age, sex, tumor sites, tumor and nodal stages, and HPV status. All patients were followed for up to five years.
Lead author and chief investigator Professor Hisham Mehanna, PhD., director of the Institute of Head and Neck Studies at the University of Birmingham, and colleagues reported that only 54 of the 282 patients in the PET-CT group required neck dissections, or 19.1%, whereas 221 surgeries were performed in the planned surgery group, or 78.4%. The number of complications following surgery was also lower: 22 in the surveillance group compared to 83 in the planned surgery group. Survival rates for the two groups were comparable.
The authors recommend that patients with strong FDG uptake should have a neck dissection. As for patients with equivocal FDG uptake, the authors wrote, "We recommend that patients with an equivocal FDG uptake should continue to undergo neck dissection, especially if they have HPV-negative disease. However, patients with HPV-positive cancers who have enlarged nodes but no FDG uptake after chemoradiotherapy may be considered for close follow-up with serial CT or PET-CT; this strategy may spare even more patients from undergoing a neck dissection."
"This study provides level 1evidence to support image-guided surveillance as the standard of care for advanced nodal disease in patients treated with primary chemoradiotherapy," said Dr. Mehanna.
REFERENCE
Mehanna H, Wong W, McConkey CC, et al. Pet-CT Surveillance versus Neck Dissection in Advanced Head and Neck Cancer. N Engl J Med. Published online March 23, 2016.
Back To Top
---
U.K. clinical trial validates PET-CT surveillance for patients with advanced head/neck cancer . Appl Radiol.
By
Staff News Brief
|
April 27, 2016
About the Author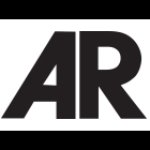 Staff News Brief