Guerbet Showcases Digital Solutions and Educational Offerings
By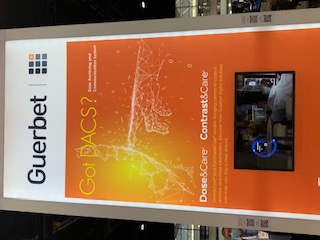 At RSNA this year, Guerbet is highlighting how its digital solutions help radiologists stay a step ahead.
These solutions include Contrast&Care, an injection data management solution that enables imaging centers to collect, archive, examine and share injection data, including data on contrast products, adverse events, injector activity, information on estimated glomerular filtration rate, and other risk factors before a clinical exam.
"Our digital solutions help radiologists drive productivity. With Contrast&Care, technologists can scan the contrast to get all the information they need so there's less human error. It links directly with electronic medical records, so they can know exactly how much was injected. We've made that available on all of our injector platforms so we can offer a complete solution," said David Hale, CEO of Guerbet.
The digital solutions portfolio also includes Dose&Care for monitoring patient exposure to radiation that is compatible with all types of ionizing modalities and collects data to provide a record of patient exposure.
The company is demonstrating the value of IBM Watson Imaging Patient Synopsis, a cloud-based solution that can integrate with existing systems and provide patient context from a comprehensive list of data sources in a matter of seconds. It equips providers with deeper insights from EHR data and seamlessly integrates with the radiologists' workflow, all in a cost-effective SaaS solution.
Guerbet is also highlighting UNIK, a flexible solution, tailored to your specific needs and challenges, designed to add value at each step of the patient healthcare journey, interconnecting our comprehensive portfolio of products, solutions, and services in diagnostic imaging.
"The advantage of a digital solution is that it captures data and allows institutions to compare their practices to external standards, and optimize practices within their own institution," said Hale. "We can help customers align their practices within their organizations to bring both productivity and clinical efficacy – and it's all a part of the workflow."
In addition, the company is focusing on its continuing education courses that are free and easy to access for the entire radiology industry. "We've been focused on helping our customers during the COVID-19 pandemic through expanding our educational programs," said Hale.
These resources bolster the continued growth and understanding of education for physicians, technologists, administrators, and nurses, providing critical Continuing Education credits at no cost. Guerbet has also provided 100 academic educational scholarships to the non-profit American Board of Artificial Intelligence in Medicine (ABAIM) to fund participation in their AI in Medicine Review Course. Along with these key opportunities, Guerbet also collaborates across the industry to promote awareness and celebrate those who care for patients.
RSNA Booth: South 1711
Back To Top
---
Guerbet Showcases Digital Solutions and Educational Offerings. Appl Radiol.